News — handmade bracelets
• handmade bracelets • luxury mens cuffs • men's accessories • men's bracelets • unique cuff bracelets • unique men's cuffs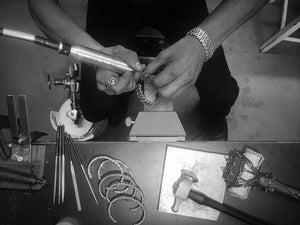 The materials we use are silver, niobium and gold, and sometimes copper, so far. For those of you who only recognize three of the four, here's a bit of background on the stranger element, Niobium, the 41st square on the periodic table.This combination of materials helps us design Unique Cuff Bracelets for our clients. I originally chose niobium to replace the steel hardware store tie-wire I used for the original bracelets, which has a dark grey color but would rust on your arm; not the most stylish accessory, the old rust ring. Check out the story of the first cuff...
---
• handmade bracelets • luxury mens cuffs • men's accessories • men's bracelets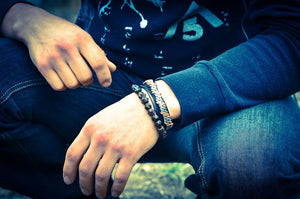 One of the hardest things to shop for as a man (or for a man, if you're looking to give a nice gift) is men's accessories since there really isn't a whole lot of variety compared to the equivalent on the women's side. Another problem with jewelry is that it is often too fragile for more active men, or it simply has too flashy of a look, which some men find to not be appealing at all. A lot of bracelets, cuffs, and other ornamentation is based around the idea of drawing attention, but a lot of men are uninterested...
---
• handmade bracelets • luxury mens cuffs • men's accessories • men's bracelets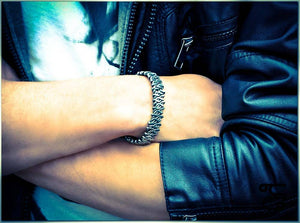 9 Reasons Why Helix Cuffs Make The Best Men's Bracelets People seem to think that bracelets are only for women. Well, at least that's what most people believe. It's so easy to shop for women. When we think of buying a woman a present, we have a tendency to think "jewelry" right away, don't we? It's almost like we already know what women like most as presents. But what about men? What do they like? Yes, it's true. Some men like jewelry. Some men wear all kinds of jewelry. You name it: rings, necklaces, bracelets, watches and even earrings. When...
---
• handmade bracelets • luxury mens cuffs • men's accessories • men's bracelets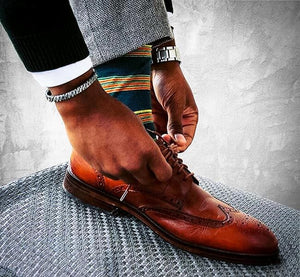 A Simple Guide to Luxury Bracelets for Men If you thought bracelets were only for women then think again. Bracelets are in for guys and they have been since the earlier years dating back for decades. Luckily enough, they have evolved over the years and today you can find some amazing, elegant and bold luxury bracelets for men in the fashion market. Any stylish guy knows the importance of accessorizing using a bracelet. There are plenty of options out there to enhance any kind of style that you are going for. The great thing about accessories for men is they...
---
• handmade bracelets • men's accessories • men's bracelets
What Goes into Making Metal Handmade Men's Bracelets? Jewelry for men has been around just as long as women's jewelry. Kings and princes have adorned neckpieces and bold bracelets in the past. Today, men who wear jewelry are considered fashionable, tasteful and expressive in the way they dress. The level of detail and quality that goes into creating these fashion centerpieces for men's wrists is quite impressive. Metal bracelets in particular are an elegant and impressive addition to any kind of look, whether going for a formal corporate meeting or enjoying a relaxed night out with a significant other. There...